A UNIQUE GIFT IDEA

Beautifully packaged for the tea devotees in your life,
tea columns make the perfect gift for any occasion.

TEA COLUMNS CONTAIN PREMIUM CEYLON TEA

Tea Columns are 2 grams of the finest Ceylon tea
encased in pure aluminum.
Tea Columns impart no metallic taste. The Tea Column was invented by a gentleman who couldn't stand the ugliness of a spent teabag, didn't like the taste of paper, string, tag and glue from a paper teabag and was unwilling to undergo the ordeal of all the pots and strainers and paraphernalia necessary to serve loose tea.
Tea Columns are a proper tea for the socially correct person and the pure tea enthusiast. Tea Columns create great conversation and excitement and curiosity when served.

The tea is the finest: full leaf, full bodied, mountain-grown, aromatic; 100% pure, no artificial ingredients or flavorings.
Instructions:
FOR EACH SERVING, USE ONE TEA COLUMN.
PLACE A COLUMN INTO A TEA GLASS, CUP, MUG OR GLASS.
POUR IN BOILING WATER (OVER BOILING RELEASES ALL OF ITS OXYGEN AND MAY MAKE TEA TASTE FLAT).
STIR WITH SAME COLUMN UNTIL YOU OBTAIN THE DESIRED STRENGTH. YOU MAY LEAVE TEA COLUMN IN WHILE DRINKING.
ADD SUGAR OR SWEETENER, LEMON OR MILK, AS DESIRED.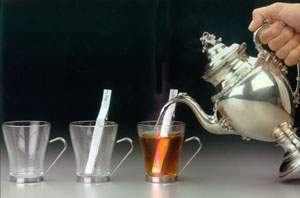 EAST EUROPEAN TRADITIONAL TEA DRINKING:
YOU MIGHT WANT TO TRY THIS IF YOU LIKE SUGAR IN YOUR TEA:
PUT A LUMP OF SUGAR IN YOUR MOUTH AND DRINK THE TEA. THE LUMP OF SUGAR WILL "FILTER" THE TEA AND SWEETEN IT AS YOU DRINK. PRACTICE THIS UNTIL YOU FINISH THE GLASS OF TEA PRECISELY WHEN THE LAST OF THE SUGAR DISSOLVES.
Imported into the colonies from across the big pond and Distributed by
The Company of A Philadelphia Gentleman
2827 North American Street
Philadelphia, Pennsylvania 19133
215-427-2827 or 1-888-TEA-0002
Product of Italy with tea from Ceylon
E-mail us at sim4033@aol.com
main page / capabilities / services / fluted trays / setup boxes / folding boxes / products
tea columns / about Rondo / contact us
RONDO OF AMERICA, INC.
209 Great Hill Road, Naugatuck, CT 06770
(203) 723-7474 Fax: (203) 723-5831
©1998. Hosted, designed and managed by NRG Networks.
Keeping business in the eye of the world.