Any style. Any size. Any color. Any texture.
Our set-up boxes make a beautiful presentation statement. They are manufactured with exquisite detail and outstanding quality.

In-house design capabilities
Specializing in automated and hand formed set-up boxes (all shapes and styles)
Metal hinged and metal edged boxes
Die-cut or thermoformed inserts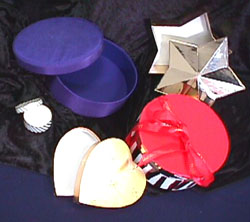 main page / capabilities / services / fluted trays / setup boxes / folding boxes / products
tea columns / about Rondo / contact us
RONDO OF AMERICA, INC.
209 Great Hill Road, Naugatuck, CT 06770
(203) 723-7474 Fax: (203) 723-5831
©1998. Hosted, designed and managed by NRG Networks.
Keeping business in the eye of the world.