First Impressions Do Count!

And that's why we're here...
To present your packaged
product!
CELEBRATING OUR 50TH ANNIVERSARY
IN THE PACKAGING INDUSTRY.
Pharmaceutical – Cosmetics – Confectionery - Electronics
Tools – Automotive – Graphic Arts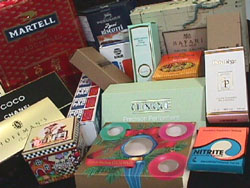 Reflecting the Quality of Your Product
Rondo Packaging understands the importance of every detail involved in packaging your products. From the artwork to finished boxes, the quality and commitment to detail remain. Every function involved in manufacturing of your packaging tolerances must be achieved with consistent quality, required performance and at a minimum cost. Rondo's years of packaging experience has helped in achieving successful solutions to the full range of packaging problems involved in each individual case.
You'll be sure to succeed when Rondo Packaging Systems works for you!


main page / capabilities / services / fluted trays / setup boxes / folding boxes / products
tea columns / about Rondo / contact us
RONDO OF AMERICA, INC.
209 Great Hill Road, Naugatuck, CT 06770
(203) 723-7474 Fax: (203) 723-5831
©1998. Hosted, designed and managed by NRG Networks.
Keeping business in the eye of the world.